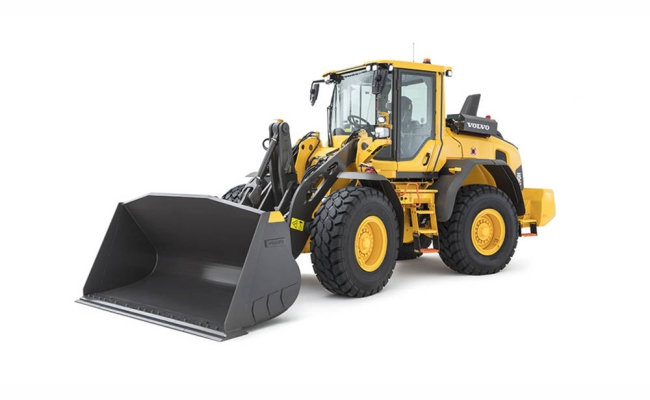 Drive productivity up and operating costs down with the updated L90H, packed with innovative features. Offering 3% more tipping load and 73mm greater…
FULLY LOADED FOR EFFICIENT OPERATIONS
Drive productivity up and operating costs down with the updated L90H, packed with innovative features. Offering 3% more tipping load and 73mm greater lifting height, the L90H is versatile and fast, with an increased top speed of 50km/h – facilitated by the optional lock-up function. And with up to 20% greater fuel efficiency, the upgraded L90H is fully loaded to do more, while using less.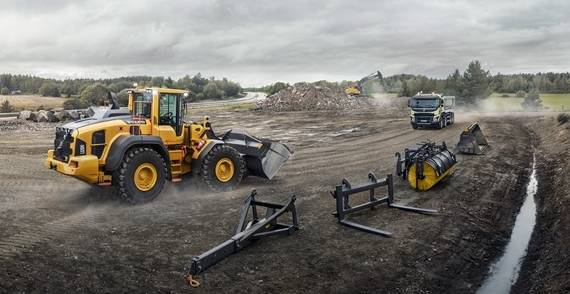 TECHNICAL SPECIFICATIONS FOR L90H
Here are the key specifications for this product model. Want more details?
Download the brochure or contact us.
| | METRIC | IMPERIAL |
| --- | --- | --- |
| Static tipping load at full turn | 9,700 kg | 21,400 lbs |
| Bucket capacity | 2.8 m³ | 3.66 yd³ |
| Log grapples | 1.3 - 2.4 m² | 1.6 - 2.9 yd² |
| Operating weight | 14,500 - 17,300 kg | 31,968 - 38,140 lbs |
| Breakout force | 137.7 kN | 30,960 lbf |
| Engine | Volvo D6J | Volvo D6J |
| Max power at | 1,400 - 1,700 rpm | 1,400 - 1,700 rpm |
| ...SAE J1995 gross | 137 kW | 184 hp |
| ...ISO 9249, SAE J1349 net | 137 kW | 184 hp |
| Max torque at | 1,400 rpm | 1,400 rpm |
| ...SAE J1995 gross | 934 Nm | 973 lbf ft |
| ...ISO 9249, SAE J1349 net | 934 Nm | 689 lbf ft |
| Tires | 20.5R25, 600/65R25 | 20.5R25, 600/65R25 |
Based on machine configuration: 2.8 m3 (3.7 yd3) STE P BOE bucket
Image illustration only. Production machines may differ in appearance and features vary between markets and models.
Take on any application with the H-Series wheel loaders, equipped with the Torque Parallel (TP) linkage for ultimate versatility. Not only does the TP linkage offer high breakout, tilt in and lifting forces, it keeps the attachments parallel throughout the lifting range for exceptional load stability and easy bucket filling. Change tools in a matter of seconds with the Volvo attachment bracket.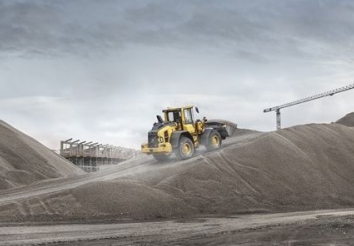 Achieve up to 20% greater fuel efficiency thanks to advanced features, such as Eco pedal and the new optional lock-up function. The lock-up feature eliminates losses in the torque converter by creating a direct drive between the engine and transmission, which work in harmony with the axles. To improve cycle times and fuel use, customize the lock-up engagement of your machine.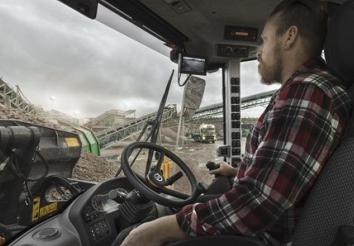 Hard work has never felt so easy from the spacious of the Volvo cab, featuring your choice of comfortable operator seat, as well as ergonomic controls. Perform basic configurations using the information panel, and keep an eye on the operation with the Contronic display.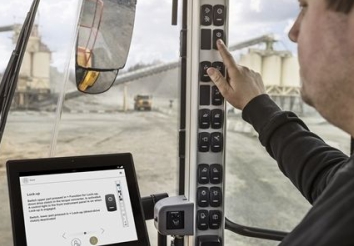 Gain access to a set of smart apps and boost the efficiency of your operation with Load Assist, powered by the 10" Volvo Co-Pilot monitor.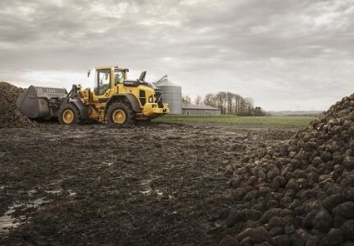 Built by Volvo, for Volvo, you can count on the proven design of the latest wheel loaders to meet the demands of tough job sites. Renowned for their reliability, the next-generation H-Series wheel loaders are built with an industry-leading, strong frame, which, combined with the ideally-matched genuine Volvo drivetrain, achieves long-lasting performance.
Only with Volvo attachments do you get what you wanted when you bought a Volvo in the first place – maximum productivity and uptime. Volvo develops and offers a wide range of attachments which brings you unmatched flexibility and versatility, making it easy for you to develop job opportunities and to get the job done with increased productivity. Displayed attachments may not be available in all markets. Consult your dealer for specific availability.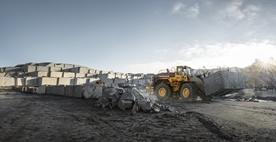 WHEEL LOADER APPLICATIONS
Discover our application specific wheel loaders, configured to meet the unique requirements of a wide range of applications.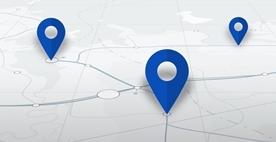 Here you will find multiple ways of getting in touch with us.