Advanced Workshop Facilities: Engine, Transmission, Dropbox Repairs, and Fabrications for Volvo, SDLG, AJAX, and Manitou Brands
At Team Engineers, we take immense pride in our state-of-the-art workshop facilities located in Pune, Chakan, and Goa. These facilities are equipped with advanced capabilities to provide a comprehensive range of repair and fabrication services for Volvo, SDLG, AJAX, and Manitou machinery. With a focus on precision, quality, and efficiency, our workshop teams are dedicated to ensuring that your equipment receives the expert care it deserves.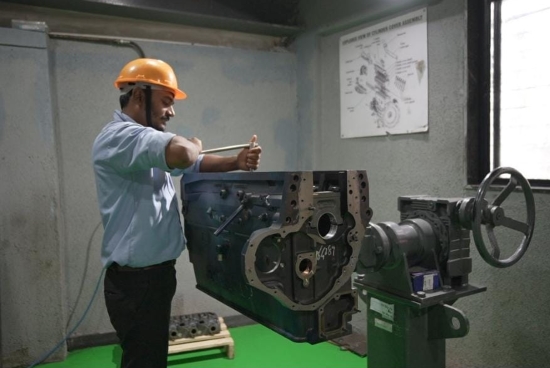 Engine Repairs and Overhauls:
Our workshop is fully equipped to handle a wide spectrum of engine-related issues for your Volvo, SDLG machinery. Our skilled technicians have extensive experience in diagnosing, repairing, and overhauling engines, ensuring that your equipment's power source operates at optimal efficiency and performance.

Transmission Expertise:
The intricate transmission systems of heavy machinery demand specialized attention. Our workshop teams are well-versed in addressing transmission issues, ranging from minor adjustments to complete rebuilds. With access to cutting-edge tools and diagnostic equipment, we ensure that your machinery's transmission functions seamlessly.

Dropbox Repairs and Maintenance:
The reliability of your Volvo's Articulated dumper's droboxes is crucial to its overall performance. Our workshops are equipped to handle Dropbox repairs, maintenance, and replacements, ensuring that these critical components operate effectively, resulting in smooth gear shifts and improved operational performance.

Precision Fabrication Services:
We understand that unique equipment requirements may necessitate custom solutions. Our fabrication capabilities allow us to design and create specialized components and structures tailored to your machinery's needs. Our skilled fabricators employ precision techniques to ensure the highest quality and compatibility with your equipment.
Advanced Equipment and Tools:
Our workshop facilities are equipped with advanced diagnostic tools, machinery, and equipment designed specifically for heavy machinery repairs. This technology enables our skilled technicians to accurately diagnose issues, perform intricate repairs, and conduct thorough quality checks to ensure the reliability of their work

Experienced and Trained Technicians:
Our workshop teams consist of highly skilled, trained, and experienced technicians who have a deep understanding of Volvo, SDLG, AJAX, and Manitou machinery. Their expertise, combined with ongoing training, ensures that your equipment is in capable hands throughout the repair and fabrication process.
Efficient Turnaround Times:
We recognize that minimizing downtime is essential for your operations. Our efficient workflow and streamlined processes are designed to reduce turnaround times without compromising on the quality of repairs or fabrications.
At Team engineers our workshop facilities in Pune, Chakan, and Goa are more than just repair centres – they are hubs of expertise, innovation, and dedication. With a focus on engine repairs, transmission expertise, Dropbox maintenance, and precision fabrications, our facilities stand ready to elevate the performance and longevity of your Volvo, SDLG, AJAX, and Manitou machinery. Contact us today to experience the transformative impact of our advanced workshop capabilities and ensure your equipment is in the best possible hands.