At TEAM ENGINEERS, our team of dedicated engineers is committed to providing exceptional service practices that ensure the seamless operation, longevity, and reliability of your Volvo, SDLG, AJAX, and Manitou machinery. With a wealth of expertise and a customer-centric approach, we take pride in offering the best-in-class service practices that keep your equipment running at its peak performance.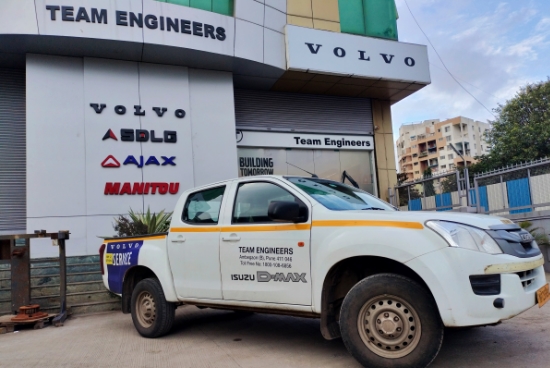 Comprehensive Equipment Inspection:
Our service process begins with a thorough and comprehensive inspection of your machinery. Our engineers meticulously examine every aspect of your equipment to identify potential issues, wear and tear, and areas that may require attention. This proactive approach enables us to address concerns before they escalate, minimizing downtime and preventing costly breakdowns.

Specialized Diagnostic Tools:
To accurately diagnose complex issues, our engineers utilize state-of-the-art diagnostic tools Like Techtool, Prosis, Vcads,Activecare etc specifically designed for Volvo, SDLG, machinery. These advanced tools enable us to pinpoint problems with precision, facilitating efficient and accurate repairs.
Genuine Parts Usage:
We uphold a defined/systemized policy of using only genuine spare parts sourced directly from authorized manufacturers. This ensures that every component replaced in your machinery is of the highest quality and conforms to manufacturer specifications, contributing to the longevity and performance of your equipment.

Skilled Technical Expertise:
Our team of engineers possesses specialized knowledge and training in handling Volvo, SDLG, AJAX, and Manitou machinery. Their expertise covers a wide range of areas, including mechanical, electrical, and hydraulic systems. This depth of knowledge allows us to address a variety of issues, from routine maintenance to complex repairs.
Customer Service Agreement.
We recognize that each piece of equipment is unique, and its maintenance and repair needs may vary. Our engineers take a personalized approach, tailoring their service practices to match the specific requirements of your machinery. This ensures that you receive solutions that are customized to optimize the performance of your equipment.

Preventive Maintenance Plans:
To prevent unexpected downtime and extend the lifespan of your machinery, we offer comprehensive preventive maintenance plans. These plans are designed to schedule routine inspections, maintenance, and part replacements, helping you proactively address potential issues and keep your equipment operating efficiently.

Timely Response and Support:
We understand the urgency of equipment-related concerns, and our team is committed to providing timely response and support. Whether it's an emergency repair or routine maintenance, our engineers are readily available to address your needs and get your machinery back to work swiftly.
When you choose Team Engineers, you're not just getting a service provider – you're gaining a partner dedicated to maximizing the performance, reliability, and longevity of your Volvo, SDLG, AJAX, and Manitou machinery. Our team of skilled engineers employs the best service practices to ensure that your equipment operates at its best, empowering you to achieve your goals with confidence. Contact us today to experience first hand the transformative impact of our exceptional service practices.