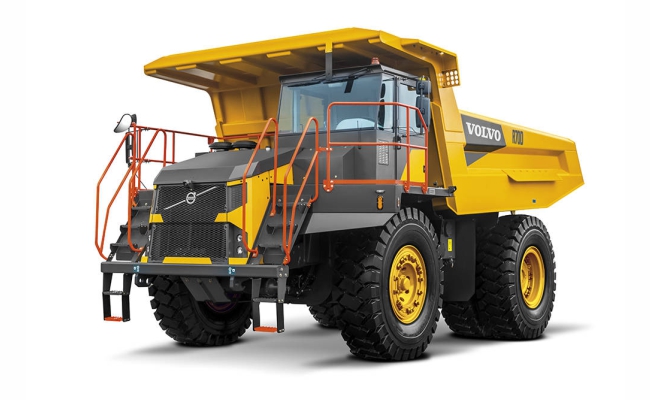 Big on productivity but low on cost of operation, the all-new Volvo D-Series mining trucks deliver outstanding performance, efficiency, reliability
PERFECT BALANCE OF HIGH PRODUCTIVITY AND LOW COST OF OPERATIONS
Big on productivity but low on cost of operation, the all-new Volvo D-Series mining trucks deliver outstanding performance, efficiency, reliability and safety in all mining and quarrying applications.
TECHNICAL SPECIFICATIONS FOR R70D
Here are the key specifications for this product model. Want more details?
Download the brochure or contact us.
| | METRIC | IMPERIAL |
| --- | --- | --- |
| Payload capacity | 65,000 kg | 72 sh tn |
| Body volume, SAE 2:1 heap | 41.5 m³ | 54.28 yd³ |
| Net weight | 47,690 kg | 1,05,137 lbs |
| Gross weight | 1,12,690 kg | 2,48,435 lbs |
| Engine | Detroit Diesel/MTU-2000TA (Tier 2 / Stage II) | Detroit Diesel/MTU-2000TA (Tier 2 / Stage II) |
| gross power | 567 kW | 760.4 hp |
| ...at engine speed | 2,100 rpm | 2,100 rpm |
| Max SAE J1349 gross torque | 3,323 Nm | 2,450.9 lbf ft |
| ..at engine speed | 1,350 rpm | 1,350 rpm |
| Max speed | 57 km/h | 35.42 mph |
Image illustration only. Production machines may differ in appearance and features vary between markets and models.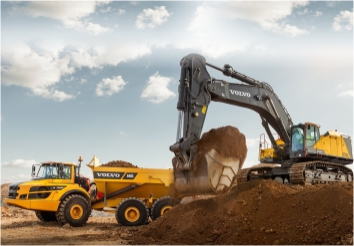 Reduce your number one operating cost with the proven technology built into the D-Series trucks. The electronic integration between the engine and transmission achieve premium drivetrain performance, resulting in smooth gearshift quality and consistent machine momentum. To reduce power losses on the powertrain, the load sensing hydraulics supply hydraulic flow when required.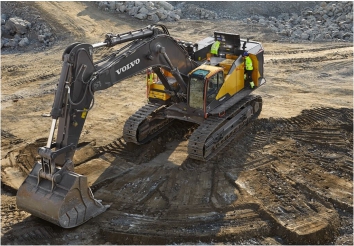 Propel your profits with the D-Series mining trucks, engineered to move material faster and more efficiently. Combining a competitive power-to-weight ratio, effective gearing, and optimum weight distribution, the heavy-duty trucks cut cycle times.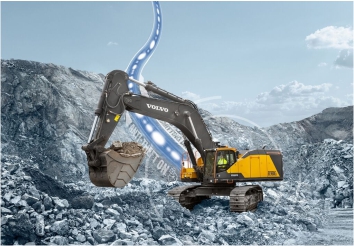 Stay safe in the FOPS-certified Volvo cab, fitted with the ROPS body canopy. But safety doesn't stop there. Inside the cab, benefit from a host of visibility-enhancing details, including the operator seat – located on the left of the two-person cab – and Volvo Smart View. The standard feature combines three exterior-mounted camera views to create a bird's eye view of the machine, displayed via the on-board monitor.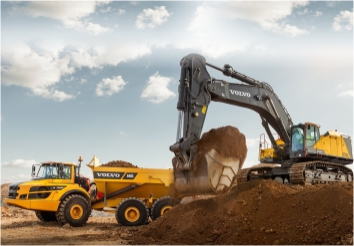 Meet the demands of tough job sites with durable D-Series mining trucks, proven to provide long-lasting performance. The frame assembly incorporates a reserve of structural strength well beyond the industry's requirements. Strong and robust, mining trucks are engineered with uptime in mind, offering swift and easy maintenance access thanks to a simple and uncomplicated machine design. Gain access to a set of tools designed to help you get the most out of your Volvo Articulated Hauler and boost your profitability. SPECIAL APPLICATION SOLUTIONS
When standard products are not a suitable solution, talk to your local Volvo dealer and discover a machine made to meet your individual requirements. A portfolio of solutions designed to complement your machine's performance and boost your profitability.