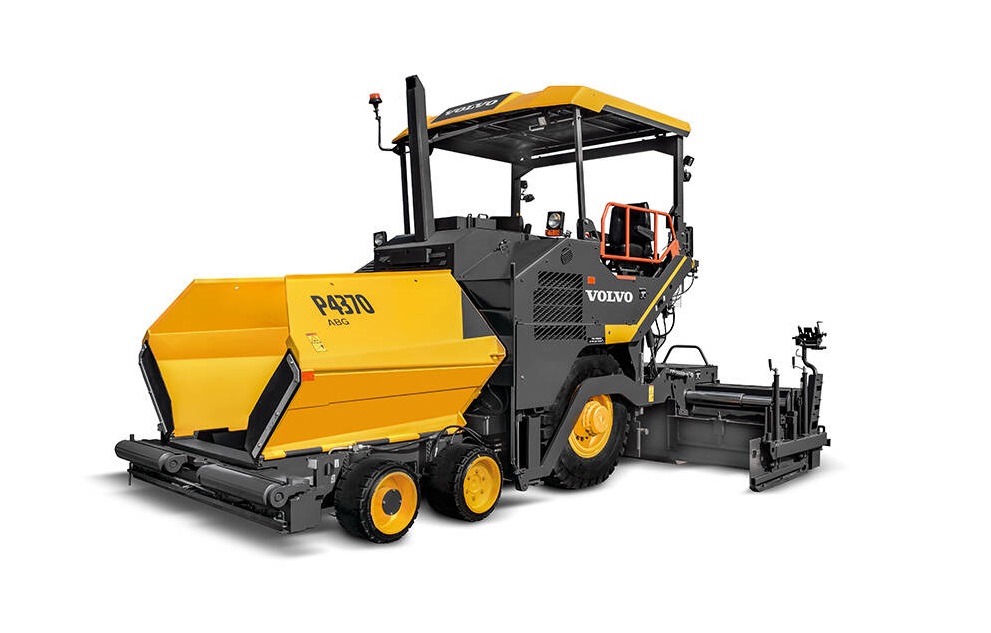 Especially developed for the Indian market, the P4370 ABG wheeled paver is packed with features to deliver outstanding paving results, including Volvo
ULTIMATE PAVING PERFORMANCE
Especially developed for the Indian market, the P4370 ABG wheeled paver is packed with features to deliver outstanding paving results, including Volvo engine, Omni V screed and superb traction and stability. Fully road homologated for Indian regulations, the paver boasts the highest levels of operator comfort and visibility, including the EPM 2.5. Durable by design, easy to service and with the full support of your Volvo dealer, you can count on maximum uptime.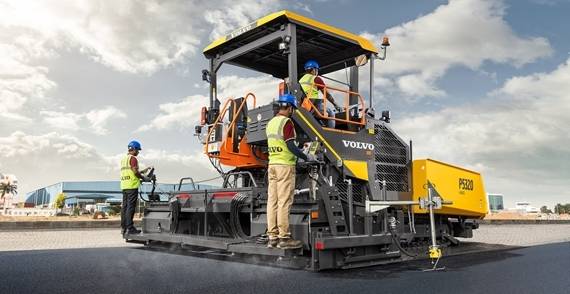 TECHNICAL SPECIFICATIONS FOR P4370 ABG
Here are the key specifications for this product model. Want more details?
Download the brochure or contact us.
| | METRIC | IMPERIAL |
| --- | --- | --- |
| Product technical designation | P4370D | P4370D |
| Engine | TAD 570VE | TAD 570VE |
| Engine power | 105 kW | 143 hp |
| ...at engine speed | 2,300 rpm | 2,300 rpm |
| Engine emission | Bharat Stage IV (CEV) | Bharat Stage IV (CEV) |
| Basic width | 2.5 m | 8.2 ft |
| Maximum paving width | 6 m | 19.6 ft |
| Paving output | 600 t/h | 661 sh tn/h |
| Maximum layer thickness | 300 mm | 11.8 in |
| Hopper capacity | 12 t | 13.2 sh tn |
| Tractor weight | 12,300 kg | 27,116 lbs |
Image illustration only. Production machines may differ in appearance and features vary between markets and models.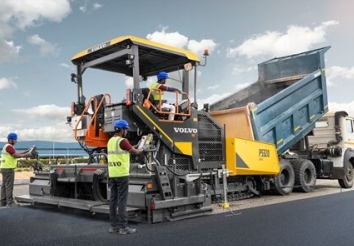 The Volvo P5320 ABG tracked paver offers the perfect blend of power and efficiency, and is fully road homologated according to Indian regulations. Features including the Volvo engine, Omni V screed, superb traction and paver stability help to deliver the highest quality paver results across a wide range of projects.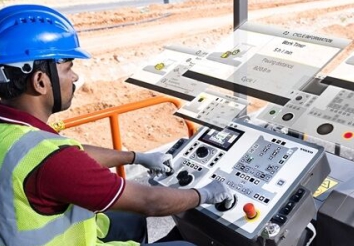 Boasting superb levels of comfort and visibility, the P5320 ABG is designed to help operators achieve optimum paving results. Features including the new generation EPM2.5, adjustable screed operation and foldable all-weather roof all contribute towards an impressive operator experience.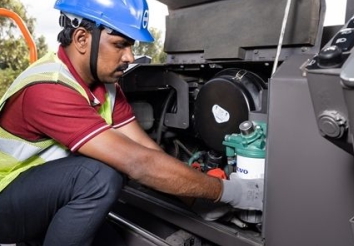 Easy servicing, high quality components and a durable design keep the P5320 ABG working harder for longer. Additional features including Care Kits, quick track pad changes and idler rollers all combine with around-the-clock premium support from your Volvo dealer, maximizing the uptime and profitability of your operation.
Only with Volvo attachments do you get what you wanted when you bought a Volvo in the first place – maximum productivity and uptime. Volvo develops and offers a wide range of attachments which brings you unmatched flexibility and versatility, making it easy for you to develop job opportunities and to get the job done with increased productivity. Displayed attachments may not be available in all markets. Consult your dealer for specific availability.